Disasters Happening Around the World
---
New Zealand floods: first ever red weather warning issued as thousands evacuated
Part of New Zealand's South Island has become cut off after days of torrential rains washed away roads, forced the evacuation of 2,000 people and saw the country's MetService issue its first ever red weather warning. A state of emergency was called for the region on Tuesday, after 100 hikers and about 70 people in vehicles were stranded by flooding and road closures in the picturesque tourist area of Fiordland.
---
Coronavirus Live Updates: W.H.O. Declares a Global Health Emergency
(30 January 2020)
The World Health Organization declared the outbreak sparked by a new virus in China that has been exported to more than a dozen countries as a global emergency Thursday after the number of cases spiked tenfold in a week.
The U.N. health agency defines an international emergency as an "extraordinary event" that constitutes a risk to other countries and requires a coordinated international response.
China first informed WHO about cases of the new virus in late December. To date, China has reported more than 7,800 cases including 170 deaths. Eighteen other countries have since reported cases, as scientists race to understand how exactly the virus is spreading and how severe it is.
A Wuhan resident accuses Xi Jinping's government of lying about Coronavirus outbreak
A resident of Wuhan told a foreign reporter, Doe, that President Xi Jinping's government is trying to cover up the true extent of the Coronavirus.  This terrible virus is already mutated to the second stage and already gone apoplectic. "They're trying to cover it up," said the resident. "There must be more than 90,000 cases."
A reporter said: "Your feeling, Doe, is this is worse than they're saying?" Doe replied: "Much worse. There's never been a case. "It's almost like a laboratory experiment which has gone wild, you know, like a military thing. Now, I'm not being melodramatic. Like you, I've been in the media all my life. "Someone has to tell the truth."
Even President Xi Jinping and his cabinet covered up and denied the severity of the spreading of the coronaviruses; however, a Wuhan nurse reveals the truth that it has mutated to the second stage which is ten fold stronger and a lot more vulnerable to people.
A magnitude 7.7 earthquake struck Tuesday, 28 Jan 2020, about 80 miles from Jamaica,
shaking people in the Caribbean and as far away as Miami, USA.  A tsunami of 0.4 feet was recorded in the Cayman Islands at George Town, waves were observed at Port Royal, Jamaica, and Puerto Plata, Dominican Republic. There were several aftershocks, including one the US Geological Survey said had a magnitude of 6.1.
Worst Locust Swarms in Decades Hit East Africa
(28 January 2020)
Hundreds of millions of desert locusts are swarming in Ethiopia, Kenya, and Somalia—some of the biggest numbers seen in more than 25 years. Unusually wet weather in the area toward the end of 2019 has contributed to the massive outbreak, driving an explosion of locusts that are destroying crops and threatening food security across the region. The United Nations Food and Agriculture Organization is requesting international assistance to combat the swarms, and warning of the potential for massive growth if they are left unchecked.
---
Scores dead as heavy rains bring landslides and evacuations in Brazil
Storms have submerged entire neighborhoods and sent homes tumbling down hillsides, causing more than 30,000 to flee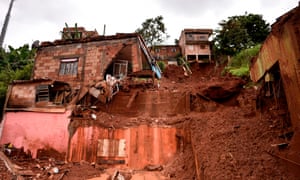 More than 30,000 people have been displaced by heavy rains in south-east Brazil that have killed 54 people and left 18 missing.  The storms have caused floods and landslides, submerging entire neighborhoods and sending homes tumbling down hillsides in the states of Minas Gerais, Espírito Santo and Rio de Janeiro.
A rare combination of volcano and lightings
including thunderstorms hit the Philippines
on 13 January 2020
Hundreds of thousands of people displaced by the threat of eruptions from the Taal Volcano located on an island in a freshwater lake 40 miles south of Manila, began rumbling on 12 Jan 2020. Within hours, Taal, the second most active volcano in the Philippines, rained sulfurous ash across the island, sending nearly 100,000 people in nearby towns fleeing. Officials said more than 390,000 people were ultimately forced into evacuation centers or ended up staying with relatives after being ordered from their homes.
New South Wales and Victoria have been worst affected
In the worst-hit state, New South Wales (NSW), fire has affected more than five million hectares, destroying more than 2,000 houses and forcing thousands to seek shelter elsewhere.
More than 1,100 firefighters are currently working to slow the spread of fires and shore up containment lines, the NSW Rural Fire Service says. On 10 January 2020, two large fires on the border between NSW and Victoria merged into a so-called "mega blaze". Victoria, where fires have burned 1.2 million hectares, extended a "state of disaster" for the worst-hit areas from 2 to 11 January, allowing authorities to enforce evacuations and let emergency services take over properties.
---
2019
June 2019 European heat wave
The June 2019 European heat wave was a period of unusually hot weather affecting southwestern to central Europe, starting in late June and resulting in the hottest June ever recorded in Europe. It resulted in record-breaking temperatures for the month of June at many locations. France experienced temperatures in excess of 45 °C (113 °F) for the first time in recorded history. A national all-time record high temperature of 46.0 °C (114.8 °F) occurred on 28 June in Véragues.
---
Hurricane Dorian was the most intense tropical cyclone on record to strike the Bahamas, and is regarded as the worst natural disaster in the country's history.

It was also one of the most powerful hurricanes recorded in the Atlantic Ocean in terms of 1-minute sustained winds, with these winds peaking at 185 mph.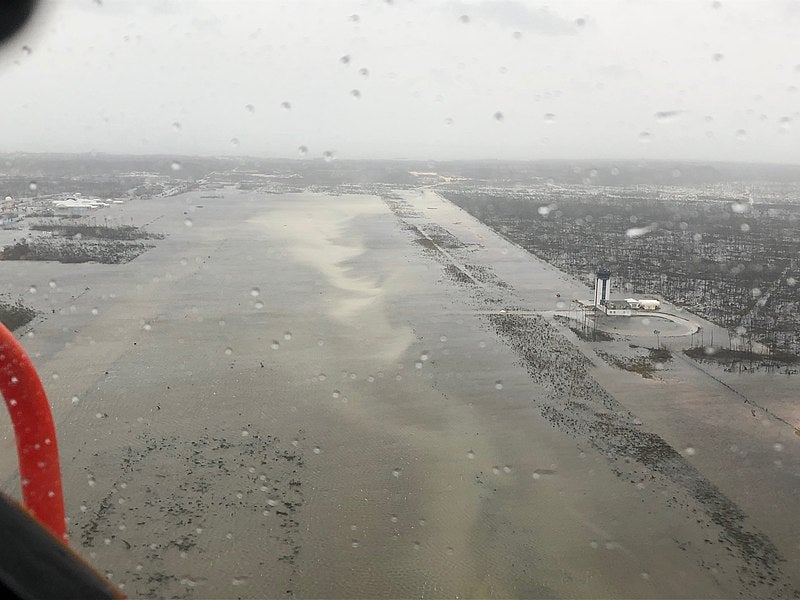 Marsh Harbour Airport on Abaco Island in The Bahamas following devastation by Hurricane Dorian on September 2, 2019.
---
Typhoon Hagibis 
2019 tropical cyclone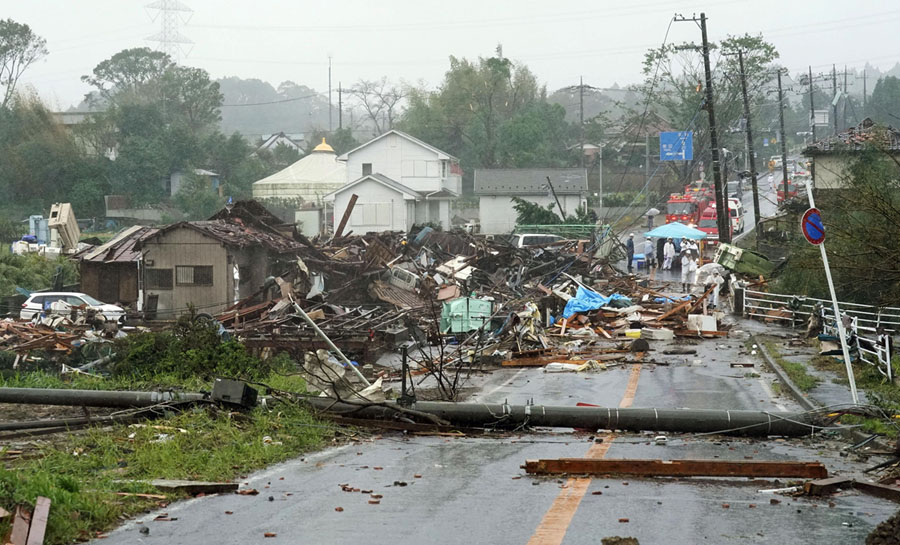 More than 100,000 rescue workers are still combing through flooded and damaged areas of central Japan after it was struck by Typhoon Hagibis, the most powerful storm to hit the area in more than 60 years. Hagibis brought high winds and heavy rainfall, which damaged structures, collapsed dikes, flooded rivers and low-lying areas, and triggered more than 100 landslides. Gathered here are some of the images of the damage and immediate recovery work taking place.
Typhoon Hagibis was an extremely violent and large tropical cyclone that caused widespread destruction across its path, starting from October 6 up until October 13
---
Venice Flooding Brings City to 'Its Knees'
The mayor called for a state of emergency after the Italian city was submerged under "acqua alta," an exceptionally high tide — the worst in 50 years. Nov. 13, 2019
---
---
2018
The California Wildfires

In 2018, California experienced some of the most devastating wildfires in its history. Data indicates that there were more than 8,000 wildfires within California's boundaries. The fires burned an extensive area with some estimates indicating that it burned an area of close to 3,000 square miles. Research from two of the leading US's fire agencies, the National Interagency Fire Center as well as the California Department of Forestry and Fire Protection, indicates that the 2018 fires affected more extensive areas than any other fire in the state's history. The two agencies also estimated that the monetary damage caused by the fires exceeded $3.5 billion. Close to $2 billion of the money estimated by the two organizations was utilized for fire suppression.
Greece Wildfires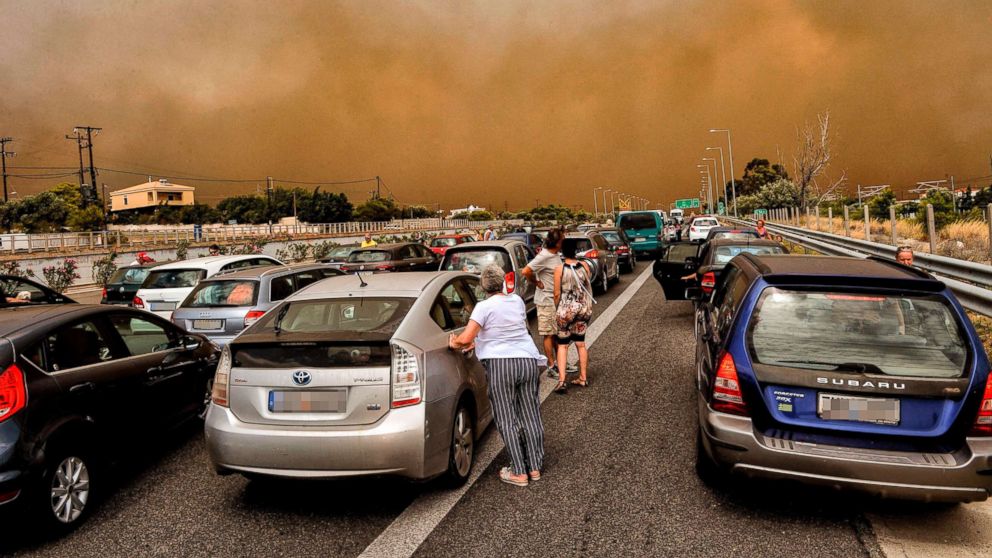 In 2018, Greece was also the victim of a massive wildfire. The fires began during a heat wave that affected sections of the European continent during the summer and spring seasons. According to Greek media outlets, by mid-September, close to 100 people had died because of the wildfires, and the inferno has earned the distinction of being the second most destructive wildfire that occurred within the 21st century.
The Sulawesi Earthquake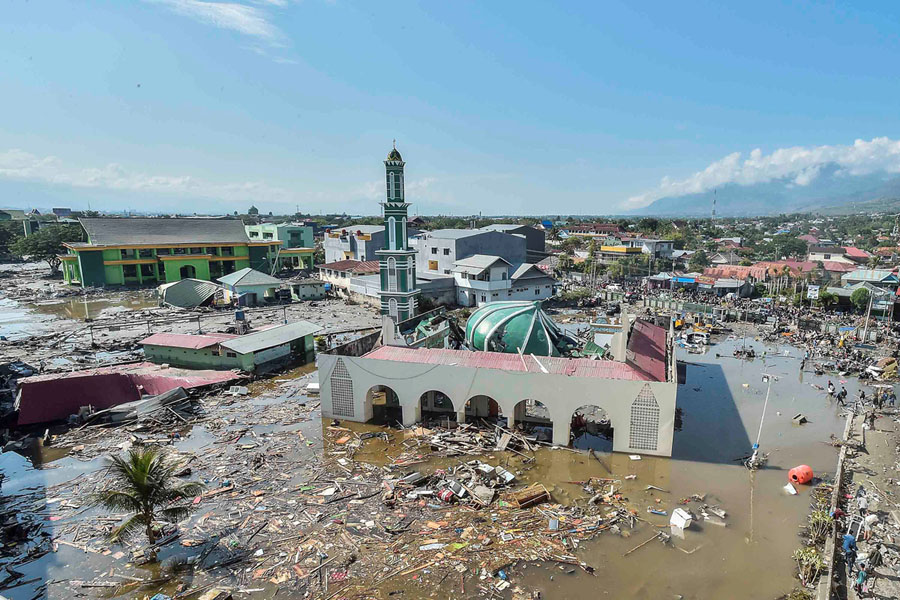 One of the most destructive earthquakes in 2018 occurred in Indonesia in a region of Sulawesi. Seismographic data indicates that the Sulawesi earthquake had a magnitude of 7.5. Before the Sulawesi earthquake struck, it was preceded by a number of foreshocks with the magnitude of the larger one being 6.1. A couple of hours after the earthquake struck Sulawesi; a tsunami affected the region of Palu. Although the Indonesian government had issued a tsunami warning, most of the people in the region ignored it and contributed to a large number of fatalities. The Indonesian government estimated that more than 2,000 people lost their lives as a result of the combined effects of the tsunami and the earthquake.
The Pakistan Heat Wave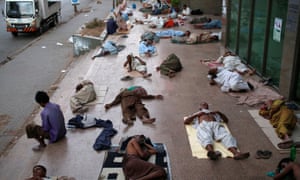 Another of the major disasters in 2018 was a heat wave that struck the nation of Pakistan. The heat wave was part of a more larger heat wave that afflicted nations in the southern portion of Asia. In the city of Karachi more than 60 died because of the heat wave.
Nigeria Floods
Nigeria was one of the victims of the worst natural disasters in 2018, floods that resulted in the death of more than 100 people all around the nation. Apart from the high death toll, the Nigerian floods also resulted in thousands of people being displaced from their homes. The Nigerian floods occurred as a result of the Niger and the Benue Rivers, the two most important rivers in the nation, bursting their banks. One of the most damaged areas was Lokoja. In response to the massive floods, the Nigerian government set aside $8.2 million and declared it a national disaster. The Nigerian government considered the 2018 flood to be one of the most devastating floods in recent memory.
Japan Floods

In 2018, Japan was also a victim of floods particularly in the southwestern section of the country. According to official records from the Japanese government, the floods affected more than 20 prefectures, and more than 220 people lost their lives. A large number of Japanese people were advised to evacuate from regions facing significant risk from the floods. The rescue efforts by the Japanese government included more than 50,000 people drawn from a number of fields such as firefighters, the Japan Self-Defense Forces as well as the several police departments.
India Floods
India was another region that was significantly affected by natural disasters in 2018. The State of Kerala was the worst hit by 2018 floods; more than 400 people lost their lives as a result of the floods and close to a million had to flee their homes. The Indian government and several aid agencies set up close to 4,000 camps where affected people could get relief. The floods in Kerala were the worst the state had experienced in more than 100 years.
Volcán de Fuego in Guatemala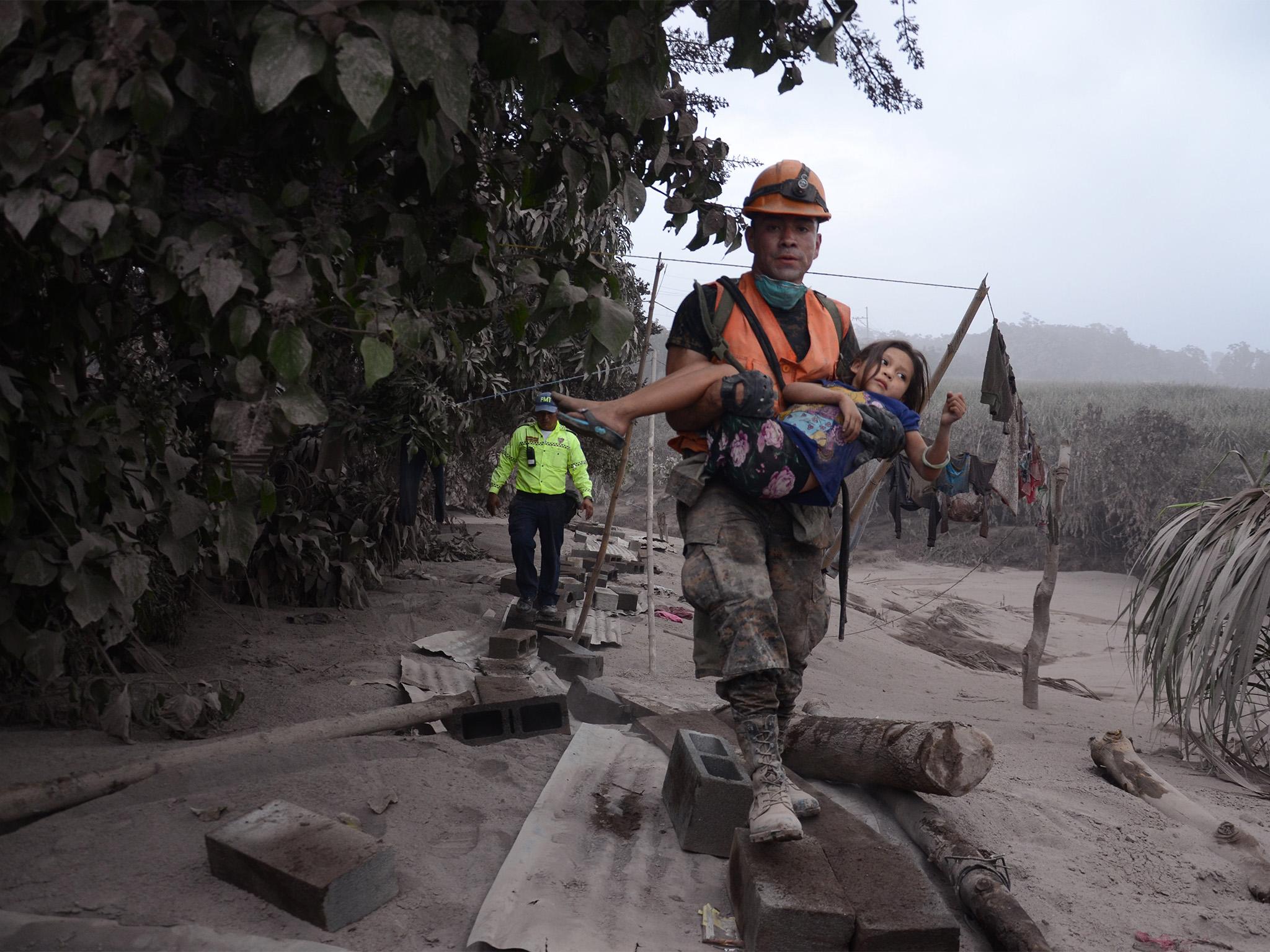 The worst natural disaster in 2018 to hit the Central American nation of Guatemala was experienced when the Volcán de Fuego erupted. According to the Guatemalan government, the eruption led to the death of close to 200 people. The Guatemalan government took several measures to keep the residents safe such as advising them to evacuate areas at risk from the eruption.
---
2017
Hurricane Maria in the Dominican Republic
Local residents wade through the flooded streets of Arenoso, Dominican Republic, on 24 September 2017 after Hurricane Maria, a major Atlantic hurricane of the 2017 season.
Earthquake in Mexico
A car crushed by rubble is seen outside a collapsed house after a magnitude 7.1 earthquake rocked Mexico on 20 September 2017, killing more than 200 people.
Refugees cross a flooded bridge in the Balukhali Rohingya refugee camp in Bangladesh after monsoon rain caused devastation in parts of India, Bangladesh and Nepal, killing more than 1,200 people this summer. Aid agencies are calling the floods one of the worst regional humanitarian crises in years with more than 40 million people affected.
Mudslide in Colombia
A deadly mudslide killed at least 200 people in Mocoa, Colombia in early April 2017. Two weeks later dozens of hillsides gave way in Manizales, pictured.
Hurricane Irma in the USA and Caribbean
Irma, a category five storm, was the most powerful Atlantic storm in a decade and caused widespread destruction across the Caribbean and the southern US.
Flooding and landslides in Sierra Leone
Bystanders look on as floodwaters rage past a damaged building in Freetown, Sierra Leone on 14 August 2017. At least 312 people were killed and more than 2,000 left homeless when heavy flooding and landslides hit Sierra Leone's capital.
Hurricane Harvey in the USA
Rescue workers help a woman from her home after Hurricane Harvey caused extreme flooding in Port Arthur, Texas. Harvey, which first hit on 25 August 2017, is the most powerful hurricane to hit Texas in more than 50 years.
---